Splice Leadcore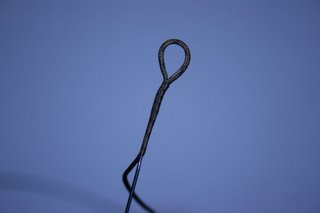 Tackle Required:
| | |
| --- | --- |
| Leadcore | 45lb Breaking strain. ESP's leadcore works perfectlyand the colours match almost any types of surface that you will be fishing. |
| | |
| Splicing Needle | Unlike your normal baiting needles, splicing needles are a lot thinner because they need to be able to run on the inside if your Leadcore. The down side is they break a lot faster. |
| | |
| Flexi Ring Swivel | Size 11 or 12 |
| | |
| Tension Bar/Loop Puller | |
| | |
| Scissors | |
| | |
| Rig Glue | |


How to Splice Leadcore
In this video you wil get to see just how easy it really is to Splice Leadcore. Then you can start making your own Leadcore Leaders.





As you can see splicing creates a far more streamlined rig than a normal knot would make and the splice is a lot stronger than the knot.








Fold the tip of the Leadcore back about 20cm. This will stop the braid covering the Leadcore from pulling off on the other side when exposing the leadcore.








From the tip of the Leadcore push back about 8cm of the coating and then break/cut the leadcore off so that a supple piece remains that you will be using to splice your Leadcore with.







Now open the latch on the needle and gently insert your Splicing Needle into the part just after where you removed the lead. Basically you will be pusing the needle into to opening where the lead use to be. Slowly push the Splicing Needle about 35mm down the coating then out again.







Push the tip of the leadcore through the desired Swivel or Rig Ring. Next grip the tip if the Leadcore with your Splicing Needle and close the latch. This part works best if you pull back the Splicing Needle to where it barely goes back into the Leadcore. Make sure that you grip the tip of the Leadcore where it is a little bit flared as this will make pulling the Leadcore back a lot easier.







Slowly start pulling the Leadcore back through till it exits the point where you first pushed the Splicing Needle into the Leadcore. Pull on the Swivel and the Leadcore to tighten and smooth everything out a bit. Use your scissors to very carefully trim back the excess braid that is sticking out of the hole. Place a small amount of Rig Glue just behind the hole to make even more sure that the splice will not come loose.








And there you have it. Now you can splice the other side. Depending on the type of rig you will be making it is sometimes required to have a loop in the Leadcore instead of a Swivel. Simply follow all the steps as you did but just leave out the Swivel when you get to Step 5. Use the Tension Bar/Loop Puller in place of the Swivel to get the desired size loop. Use a little bit of Rig Glue once again.